Editor's Note: Editor's note: If you or someone you know is struggling with suicidal thoughts or mental health matters, please call the 988 Suicide & Crisis Lifeline by dialing 988 to connect with a trained counselor, or visit the 988 Lifeline website.

Seoul, South Korea
CNN
 — 

When fighting broke out in Kang Hyeon-joo's elementary school classroom, her heart would beat so fast she could not breathe and her vision would blur.
"They were throwing punches and kicking faces, throwing chairs and tables around," she recalled, adding she had been hurt trying to intervene.
For two years, Kang struggled to discipline her students – or cope with the parental backlash when she did. She claims her principal did nothing to help and would tell her simply to "just take a week off".
The strain took a dangerous toll. Kang says she started feeling the urge to jump in front of a bus. "If I just jumped at least, I would feel some relief. If I just jumped off a tall building, that would at least give me some peace."
Kang is currently on sick leave but is far from alone in her experiences.
Tens of thousands of teachers have been protesting in recent months, calling for more protection from students and parents. At one protest in Seoul last month, 200,000 gathered, according to organizers, forcing the government to take notice and action.
The unified stand by the country's teaching staff comes after the suicide of a first-grade teacher, in her early 20s, in July. She was found dead in her classroom in Seoul. Police have mentioned a problematic student and parental pressure while discussing her case, but have not given a definitive reason for her suicide.
Several more teachers have taken their own lives since July and some of these cases have reportedly been linked to school stress, according to colleagues of the deceased and bereaved families.
Government data shows 100 public school teachers killed themselves from January 2018 to June 2023, 11 of them in the first six months of this year, but does not specify what factors contributed to their deaths.
Sung Youl-kwan, a professor of education at Kyung Hee University, says the speed and size of the protests took many by surprise. "I think there has been like a shared feeling that this can happen to me too," he said.
Teachers point to a 2014 child abuse law, intended to protect children, as one of the main reasons they feel unable to discipline students. They say they are fearful of being sued by a small percentage of parents for causing emotional distress to their child and being dragged through the courts.
"School is the last barrier to let students know what is okay in society and what is not. But we couldn't do anything, if we teach them, we could be accused," said Ahn Ji-hye, an elementary school teacher who helped organize previous protests.
Ahn says parents have called her mobile phone some days from 6 a.m. until 11 p.m., wanting to talk about their child or complain.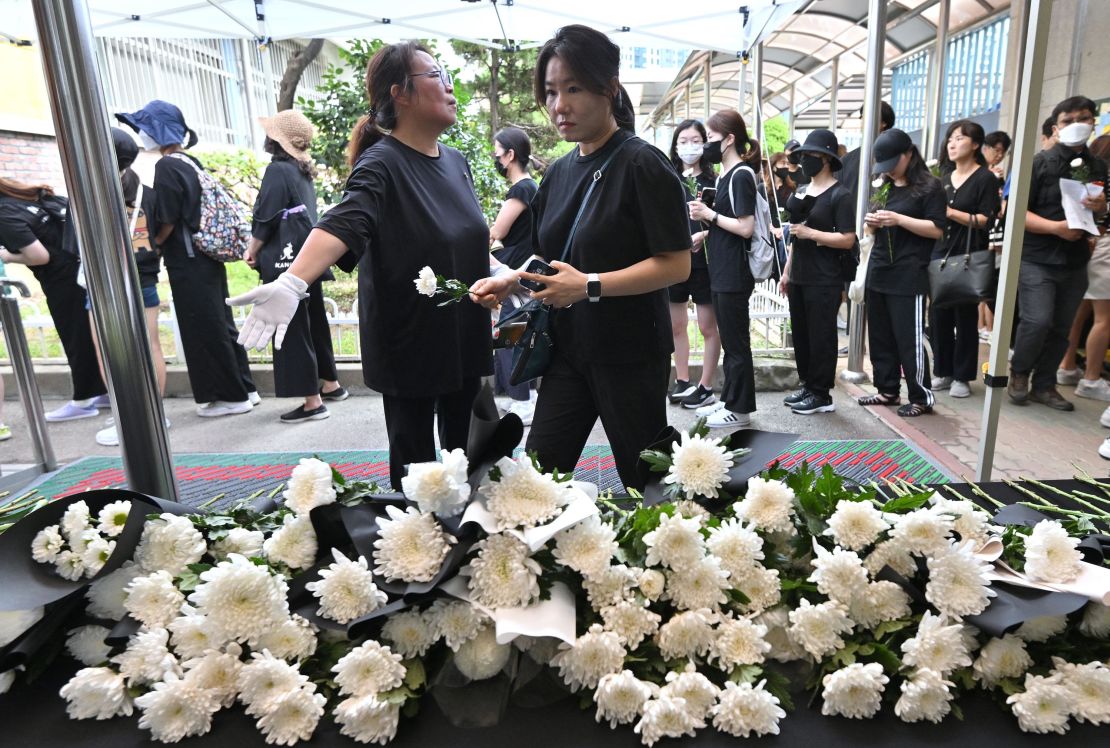 South Korea's education minister Lee Ju-ho initially warned teachers that a mass strike would be an illegal act. That position was swiftly reversed, and a set of legal revisions passed the National Assembly on September 21, a fast piece of legislation.
One of the key changes is providing teachers some protection from being sued for child abuse if their discipline is considered a legitimate educational activity. Also, the responsibility for handling school complaints and lawsuits brought by parents now rests with the principal.
"So far we have a culture where the school principal tended to pass those responsibilities to teachers," said Professor Sung.
The new law will also protect teachers' personal information, such as their mobile phone numbers, and require parents to contact the school with concerns or complaints rather than the teacher directly.
In the past, Ahn said, "If I could not give my personal phone number to them, sometimes some parents would come to the parking lot and watch and see and take a note of my phone number from my car, then they would text message me." It is customary for Koreans to display their phone number in the bottom corner of their windscreen.
Ahn welcomes the legal changes as "meaningful," but insists higher-level laws like the Child Welfare Act and Child Abuse Punishment Act also need to be revised. "It is still possible to report teachers based on suspicion alone according to these laws," she said.
She says that, for now at least, the protests will continue.
One is planned for outside the National Assembly on October 28. Ahn says she would like to see penalties for parents who make unfounded accusations against teachers or practical measures put in place so that mandated changes can be adopted in classrooms, such as removing a disruptive student elsewhere to allow teaching to continue.
Professor Sung believes the revisions will help in the short term, but cautions that the law should be seen as a safety net not a solution.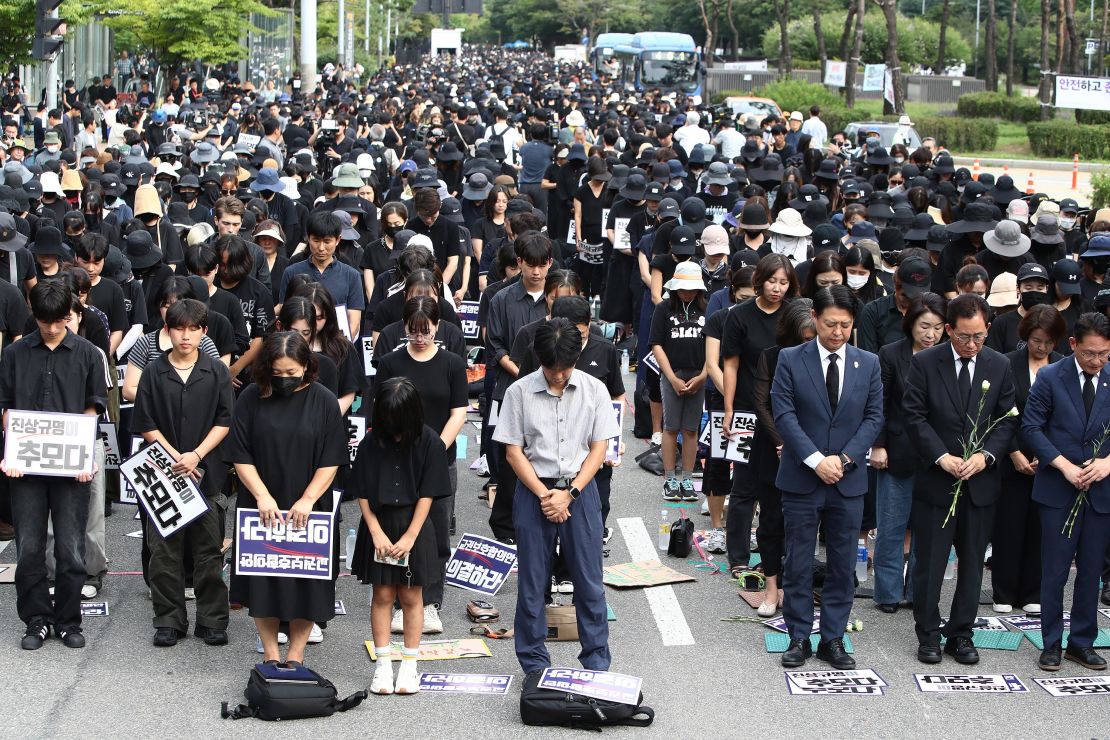 Critics say South Korean society places a disproportionate level of importance on academic success so it should not be surprising that parents put teachers – and the wider education system – under so much pressure.
It is the norm for students to attend a cram school, called hagwon, after their regular school hours, not as an extra but as a basic and expensive requirement to succeed.
On the day of the national college entrance exam, known as Suneung in Korean, airplanes are grounded, and commuting hours are adjusted to ensure that students taking the exams are not disturbed.
"We have a culture in which parents have usually one child and they are ready to pour every financial resource and opportunity into this child," Sung said.
"This pressure or obsession with education, sometimes with a high score, high achievement (mindset), is not a good environment for teachers (because) they are taking the pressure from the parents."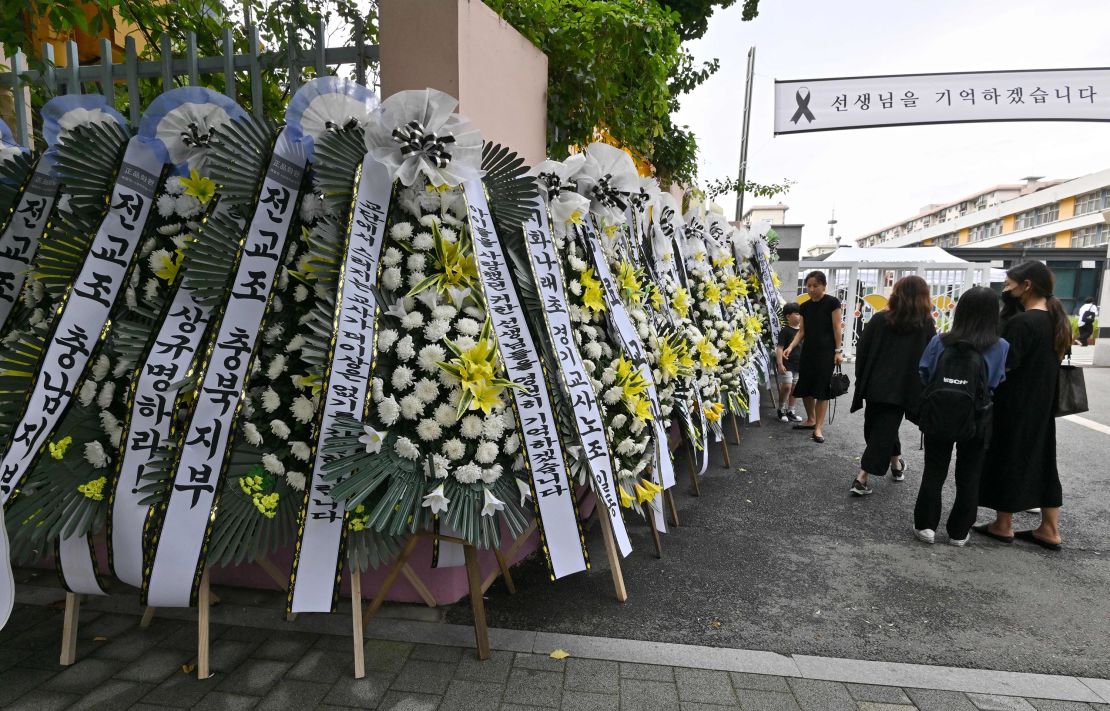 Sung says the days of a teacher being automatically respected are long gone, not just in South Korea but elsewhere in the world, and the teacher-parent dynamic is unrecognizable from just a decade or two ago.
"In educational policies, parents are regarded as like a consumer, with consumer sovereignty, and school and teachers are regarded as service providers", he said, adding parents believe they "have the right to demand many things from schools."
In a country where education is considered central to success, teacher satisfaction is low. A survey by the Federation of Teachers' Labor Union in April found 26.5% of teachers polled said they had received counseling or treatment for psychological issues due to their job. Some 87% said they have considered moving job or quitting in the past year.