The Wagner group announced a retreat from the Ukrainian city of Bakhmut in an expletive-laden video as tensions between the mercenaries and the Russian Ministry of Defense continue to peak. 
"Their blood is still fresh, and now, listen to me, b—-," Yevgeny Prigozhin, Wagner's founder and leader, said in a video as he walked among the bodies of dead soldiers. "These are someone's fathers and someone's sons."
"And those [expletive] who don't give us ammunition will burn in Hell, eating their guts, [expletive]," he continued, aiming his rant at Sergei Shoigu, the Russian defense minister, and Valery Gerasimov, the chief of the general staff. "We have a 70% shortage of ammunition. Shoigu, Gerasimov, where is the ammunition? Look at them, b—-!"
The Wagner chief has resorted to increasingly angry rants as he has found his influence diminished and his position alienated from Russian military command. 
ALLEGED PUTIN ASSASSINATION IS 'FALSE FLAG' ORCHESTRATED TO BOLSTER RUSSIA'S WAR EFFORT, EXPERTS CLAIM
Prigozhin has tried to use the press to force the hand of Russian military leadership, first providing an interview with a pro-war Russian blogger in which he warned that his troops were down to their last ammunition supplies, saying "everything else will crumble" if he must pull his forces. 
He then followed up with the video released this week, saying that the lack of ammunition has caused losses to "increase "exponentially every day," the BBC reported. 
WARNING: SOME GRAPHIC CONTENT AND INAPPROPRIATE LANGUAGE
"My lads will not suffer useless and unjustified losses in Bakhmut without ammunition," he claimed, stressing that without the much-needed bullets and other ammunition, he would be "obliged to transfer positions in the settlement of Bakhmut to units of the defense ministry and withdraw the remains of Wagner to logistics camps to lick our wounds."
"You scumbags are sitting in expensive clubs; your children are enjoying life and making YouTube videos," he continued. "You think you are the masters of this life and that you have the right to control their lives. You think that if you have ammunition depots then you have the right to them."
INDIA'S FOREIGN MINISTER HOLDS TALKS WITH RUSSIAN, CHINESE COUNTERPARTS AHEAD OF CENTRAL ASIAN SECURITY FORUM
"There are simple calculations: if you give the normal amount of ammunition then there will be five times fewer of them [dead]," he threatened. "They came here as volunteers and are dying so that you can fatten yourselves in offices done out in mahogany." 
A senior Ukrainian official said today that Russia was bringing Wagner mercenary fighters from other areas to try and push for victory in Bakhmut ahead of Russia's Victory Day celebrations on May 9. Wagner has attempted to take the city since last summer, taking heavy casualties throughout the campaign, according to The Times UK. 
Prigozhin enjoyed a privileged position as Russian President Vladimir Putin increasingly leaned on Wagner to keep his troop numbers up while his forces continued taking larger-than-expected losses in Ukraine. 
With his success and increasing influence, Prigozhin appeared to try and take power from Russian Defense Minister Sergei Shoigu, according to a close associate and two Western officials. The associate claimed that Prigozhin referred to Shoigu as "our biggest enemy, not the Ukrainians," according to The Financial Times.
CHINA, RUSSIA, NORTH KOREA AND IRAN ARE INVESTING IN WAYS TO NUKE US. THIE TIME IS NOW FOR MISSILE DEFENSE
One of Prigozhin's close associates compared the mercenary chief to "Icarus," who flew too close to the sun and got burned. The appointment of Valery Gerasimov as the new chief of the general staff, the top official for Russia's military, saw Prigozhin's standing greatly diminished.
He previously accused the military command of "treason" for shorting his men of much-needed ammunition and ending his ability to endlessly recruit from prisons – a program that proved highly controversial with the Russian public.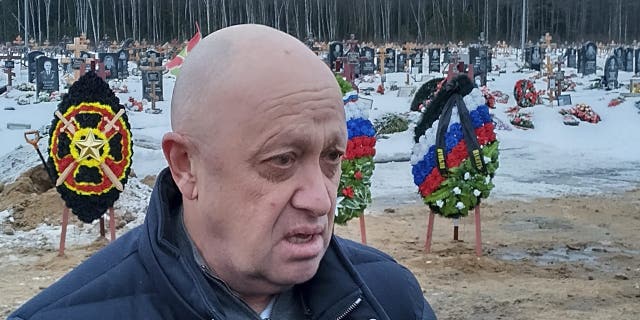 Rob Lee, a military analyst at the Foreign Policy Research Institute, wrote on Twitter that Wagner's lack of ammunition may reflect Russia's defense ministry rationing ammunition ahead of Ukraine's long-anticipated counteroffensive. 
CLICK HERE TO GET THE FOX NEWS APP
"Wagner has long had a significant artillery advantage in Bakhmut and received preferential support," Lee wrote in a tweet thread. "The MoD has to defend the whole front but Prigozhin only cares about taking Bakhmut." 
"Wagner and Prigozhin have always represented a unity of command problem in this war," he added. "Putin likes to use competing factions as a way to maintain power but this is very damaging in a military operation."