Day 174: 53 miles
This morning I woke up pretty early and left the motel. We wanted to have breakfast again, but knew that would have significantly delayed our departure. And I had a great day ahead of me.
Today we will be walking 33 miles on the main road all day. But there are plenty of fun stops along the way! So I'm making the most of it. Road walking can be a fun time if done with the right posture. And after 5 months of climbing mountains, I am ready to walk on the cold plains.
We soon rode about 10 miles and arrived in the town of Houston. There was a Walmart there, so I couldn't resist going inside to buy something. Walmart is a great store for resupply, but I don't see them very often.
Afterwards, we went to the subway to eat lunch. I bought a coke and sat outside to eat. Then I continued walking down the road. I had to decide where to spend the night tonight. There is a shelter 33 miles from my day. But I really don't want to spend such a short day. Other than that, I didn't see any camping options along the road.

I wanted to end up near the town of Bridgewater, so I decided to call City Hall. The woman on the phone said there were no camping options in town. That was a serious bummer. But a few minutes later, the phone rang. It was the same woman! She forgot, she said, that there was a new campground in town called Heidi Away. So she tried calling the campground. The kind lady on the phone told me she could arrive at any time and pitch a tent at the campsite. What a relief! Now I can run 33 miles a day. That will make tomorrow's day much easier.
At one point, while I was hiking, a man pulled up and offered to give me a ride. He was really nice, but of course he said no. This is the path I should walk! But maybe 10 minutes later he drove back and gave me a bottle of water and a carton of lemonade. It was amazing trail magic! I wasn't expecting much trail magic on the IAT. But I'm already impressed by the kindness of the people here.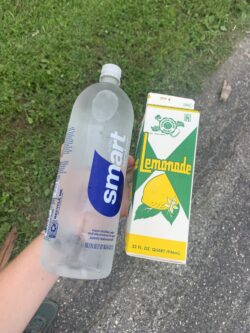 After walking another 11.8 miles, we reached another small town. There was a gas station with a restaurant inside. I went inside and got a piece of pizza. Then I asked if I could sit there for a little while. The people working there were very nice and told us we could sit as long as we wanted. I charged my phone for a while and then ate some pizza. It started to rain lightly outside, but luckily it passed quickly.
Then I sat for a while and decided to just keep going. I walked a few more miles and passed a pharmacy sign. It seemed like it was a medical issue, but I decided to walk over and ask anyway. Some employees were playing disc golf outside. When I said hello, they greeted me like old friends. Apparently that woman had been watching me walking on the street all day today. Eventually I talked to them for a while and told them where I was from. The dispensary was a medical facility, so it couldn't sell me marijuana. But one of them gave me a really great pre-roll. They also gave us sparkling water to drink during the walk. What a pleasant surprise!
From there we continued on and after about a mile we entered Monticello. There was a small general store in town, so I went in. I bought an ice cream there and continued walking. What a fun day!
On the next road a truck stopped and the person inside yelled at me. Apparently it was the two men who saw me on the subway this morning. They were shocked to see me still walking on the road. I had gone about 32 miles since they last spotted me. Everyone was very curious about what I was doing. They offered me a ride, but I had to decline. And at this point I was only a few miles from the campsite where I would spend the night.
We ended up arriving at the High'D Away campsite around 6:30pm. It was a 420 friendly campsite so there was a lovely smell of weed throughout the area. Lisa, the woman who ran the place, was very nice. There were cabins on site, but we decided to pitch a tent. And she let me pitch a tent under the awning in case it rained tonight. She smoked me, and I turned into a terrible stone. Then we set up camp before taking a nice shower! After that, I had a good night's rest.
Day 175: 33 miles
I woke up this morning and was able to start my day pretty early. I started walking, but the road that day was long. But today, I am officially leaving the United States and entering Canada. And I'm so excited about it.
I was walking on the road again today. However, unfortunately there was no place to stay all day. It's different from yesterday when there were so many fun places to stop.
Just like yesterday, I ran many miles before taking my first break. I stretched, had a snack, and continued on. Then, in the afternoon, a truck passed by and stopped. That was one of the same guys I saw last night! The man saw me again and was very shocked. I've walked about 30 miles since he saw me for the first time yesterday. He really couldn't believe it. This time he was going in the opposite direction, but I joked that if he drove past me again later, he'd give me a ride. I couldn't accept it, but I was grateful for the offer.
At one point, as I was walking down the road maybe five miles from Fort Fairfield, I passed a house with two children playing outside. They ran across the street to where I was and asked my name. I told them my name was Peg Leg and they loved it. Then they asked where I was going. I told them I was walking to Canada! One of the boys started shouting excitedly about Canada and wanting to go there. He said it was still a long way off. But he started following me.
As I was walking, he yelled at me, "Why are you walking so fast?" But I was just going at the same pace as usual. Eventually he ran back home and had his bike chase me. But after a while he gave up and went home. Overall it was cute though.
Today I was just walking on the road all day and there was no place to take a break, so it was a little boring. However, after 42 miles, they reached the town of Fort Fairfield. I stopped at an ice cream and burger place to buy a milkshake. It was going to be a "walking milkshake" for me while I continued walking around the city. I still had the pre-rolls that the people at the pharmacy had given me yesterday, but I knew I wouldn't be able to cross the border with them. So I served it to a group of people hanging out at an ice cream shop. That made their day! And it felt good to do so.
Once I got my milkshake, I continued walking around town. There was a gas station in Fort Fairfield so we stopped for lunch. I bought a few pizzas and sat outside to eat them. There was also an outlet, so I was able to charge my smartphone a bit. My service was coming and going while I was sitting there. That's when I started realizing that I might not be able to get services in Canada. After doing some research, it seems like you'll get really bad service in Canada, if at all.
So, before crossing the border, I decided to call the place across the border and book a room. I thought if I crossed the bridge I might lose service completely. Then I kept walking and there were two more miles to the border. The last few miles were very exciting. Climbing Katahdin was exciting, but today we have something even more exciting to do. I'm leaving America and entering a completely different country to continue my hike. I have almost officially walked from Alabama to Canada.
As I approached the border, a wave hit me. I was very impressed. When I climbed Katahdin, I did not cry, nor did I even feel the desire to cry. I didn't cry during my first solo hike at IAT. But here I was approaching the Canadian border and I felt so many things. I had to walk right up to the window where cars would drive through. The woman behind the counter took my passport and asked me lots of questions. Then I got through! Goodbye America! I'm in Canada now.
I walked across the border into New Brunswick. It was an incredible feeling. I broke out a little but didn't cry even though I was really close. It started raining just as we crossed the border. The timing was very interesting. But it didn't bother me at all! I put on my raincoat and continued walking. The road passed Amish homes and wooden buildings. It was a really nice hike to Perth Andover.
We arrived in town around 6:30pm. My first stop was a gas station to get some snacks and drinks. Everything inside was so different! It was so much fun and there were so many new sweets. We're going to have a great time in Canada.
I then walked to the motel to check in. The man who helped me was incredibly helpful and friendly. He gave me his business card and told me to call him when I completed the trail. I put my luggage in the room and then went outside to get something. There was a pharmacy along the road, so I headed there. And it was surprisingly cheap. Probably 50% cheaper than any pharmacy I've ever been to in the US. Then I went to another gas station and bought some snacks for dinner. There was a meal at the gas station that looked delicious and could be cooked in the microwave. I had butter chicken and rice. Then I went back to my room and relaxed.
I took a shower and cooked dinner in the microwave. Afterwards, we lay in bed, ate, and relaxed. Today was a really great way to end a 33 mile day! I can't believe I'm in Canada right now. I'm really looking forward to seeing what happens next.
Affiliate disclosure
This website contains affiliate links. This means The Trek may receive a share of any products or services you purchase using links in articles or advertisements. You pay the same price you would otherwise pay, and your purchase helps support Trek's continued goal of providing quality backpacking advice and information. Thank you for your cooperation!
Please see the About this site page for more information.